Easy, Low-Carb, Keto Egg Salad Recipe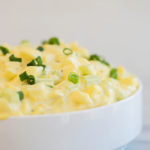 How to Make Keto Egg Salad
This keto egg salad could not be easier to make (promise!). It contains just three ingredients, calls for very little prep work, and doesn't require you to use your oven. For this recipe, you'll need to keep these three items on hand:
Large eggs
Mayonnaise
Celery
Making egg salad is a pretty simple process. First, you'll need to hard-boil your eggs. You can do this by adding water to a deep pot, adding your eggs, then cooking them on high heat for 7-10 minutes. Once the time has passed, scoop out your eggs, and allow them to cool on a wire rack or on a dish towel. If you own an electric egg cooker, you can use this as well.
Once your eggs have cooled (you can place them in a bowl with cold water to speed up the process), it's time to peel them. Remove the shell from your eggs, placing the egg white and yolks into a large mixing bowl. From there, you'll add the mayo, lemon juice, and mustard, mixing thoroughly until well combined.
If you haven't chopped your veggies yet, grab your cutting board and thinly slice your green onions. Next, finely chop your celery into small bits. Add the celery and onion to your egg mixture, mixing thoroughly.
Recipe Variations on Keto Egg Salad
This easy, low-carb egg salad is delicious on its own. However, if you'd like to spice things up a little and give this recipe your own unique twist, try these recipe variations:
Give it a little kick: If you enjoy spicy foods, don't shy away from adding some heat to this recipe. Add finely chopped jalapeno peppers, a dash of taco seasoning, or half a teaspoon of cayenne to your egg mixture for added kick.
Make it deviled: Do you love deviled eggs? Then add a little pickle relish, vinegar, and paprika to your concoction to make deviled egg salad.
Transform it into avocado egg salad: Avocado tastes good with anything, and egg salad is no exception. Add half an avocado for an extra creamy egg salad loaded with healthy fats.
Add some bacon and dill: Bacon and dill are two flavors that pair extremely well with hard boiled eggs. Add crumbled bacon and a teaspoon of dill for a new take on the classic egg salad.
Make it extra creamy: If you tolerate dairy products, try this pro tip. Add a fourth cup of sour cream to your egg mixture, giving it a decadent, extra creamy texture.
Turn it into a chicken salad: Do you love chicken salad? Do you love egg salad just as much as you love chicken salad? Combine two of your favorite recipes, mixing shredded chicken, tomatoes, chives, and red onion into your egg salad ingredients.
Egg Salad FAQs
This keto egg salad recipe is pretty straightforward. However, in case you have any lingering questions, here are a few tips and tricks to clear things up before you get cooking.
Is mayo keto-friendly? Yes. As long as it's a high-quality, low-carb mayo free from added sugars. Check the ingredients and purchase a mayonnaise that is made primarily of eggs, olive oil, vinegar, and natural acid like lemon juice.
How many carbs are in this recipe? There is just 1 gram of total carbohydrates in this recipe, making it low in net carbs and completely sugar-free.
What kind of mustard works best? You can use yellow or dijon mustard in this recipe, depending on your tastes.
How should you serve this recipe? You can serve this recipe atop a salad, rolled up into a lettuce wrap, or on its own with a fork.
Is this recipe paleo-friendly? Yes, this recipe is vegetarian, gluten-free, paleo, and keto-friendly.
Recipe Benefits: Why Are Eggs Healthy?
Eggs are loaded with nutrients, vitamins, minerals, protein, and healthy fats. Eggs can help reduce the risk of certain diseases, protect your eye and skin health, and can even boost your brain power[*][*].
Here are a few other health benefits of eggs you may not know about:
Eggs Might Reduce the Risk of Heart Disease 
Eggs are considered a heart-healthy food mainly due to the omega-3 fatty acid content[*]. These healthy omega-3 fats help lower triglycerides and cholesterol levels. Eating eggs is also a great way to increase HDL or "good" cholesterol[*].
Eggs Contain Antioxidants 
Egg yolks contain two specific antioxidants — lutein and zeaxanthin — which can help counteract degeneration of the eyes, reduce the risk of cataracts, and prevent glaucoma[*]. These nutrients filter out high-energy blue light spectrums that cause damage to your eyes.
Eggs Could Benefit Your Brain
Eggs contain choline, which is essential for brain health. Choline helps to maintain the structure of cell membranes and plays a vital role in neurotransmitters, thereby helping brain cells communicate with one another. Choline can also help with mood, memory, and cognitive function[*].
Enjoy This Easy Low-Carb Egg Salad for Breakfast, Lunch, or Dinner
Egg recipes are a great component to any keto diet meal plan. Eggs are a high-fat, high-protein food that are loaded with a wide variety of health benefits. Plus, they're extremely affordable and versatile, making them an easy addition to your weekly roundup of meals.
This keto recipe for egg salad takes hardly any prep time, is exceptionally low in carbohydrates, and even offers some noteworthy health benefits.
Enjoy this egg salad straight out of the bowl for breakfast, as a lettuce wrap for lunch, or paired with a few keto side dishes for dinner. However you choose to enjoy it, know that this low-carb recipe will fill you up, won't break the bank, and will fuel you with plenty of healthy fat and protein.