Keto vegetables – the best and the worst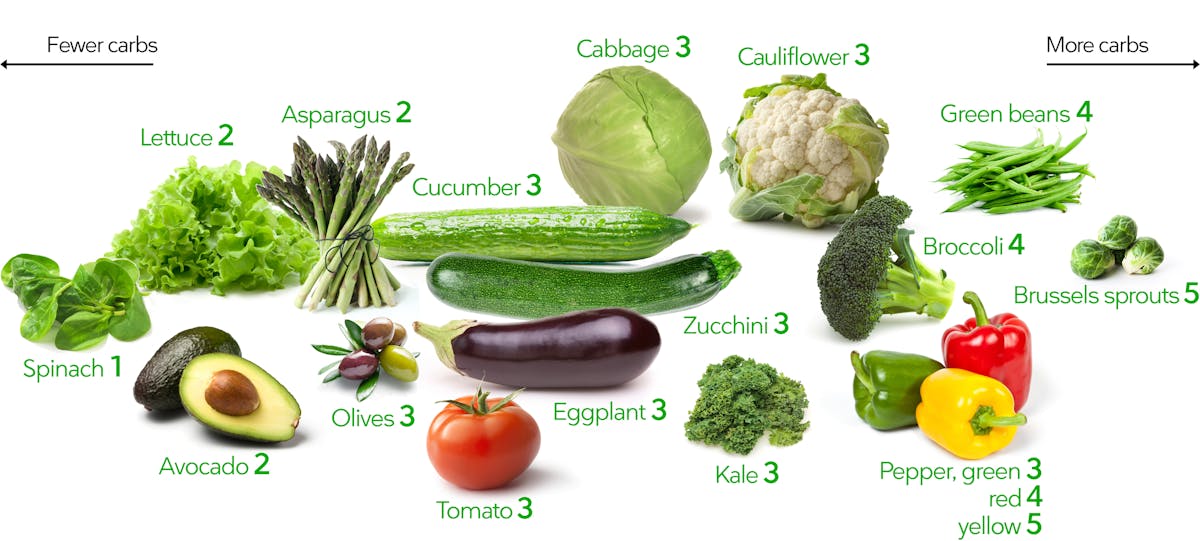 Carb counts represent net carbs for a standard serving size of 100 grams for each vegetable (3½ ounces, about the weight of an average tomato).
For example, 100 grams of asparagus contain 2 net carbs while 100 grams of broccoli contain 4 net carbs.
Note that while the below ground vegetables range from 7 to 17 carbs per 100 grams, the above ground carbs pictures are all under 5 carbs per 100 gram serving. Quite a difference!
A word about onions: while they grow below ground, and are higher carb, onions as a seasoning can be added to foods because generally people do not eat too many onions at once. Be careful of caramelized onions, or sautéed onions, as these are easier to consume in larger amounts. Green onions, or scallions, as a topping for salads and dishes are fine in modest amounts.
Vegetables on keto
All foods are comprised of macronutrients – carbs, protein, and fat. While meat and most dairy are primarily made up of protein or fat, vegetables contain primarily carbs. On a strict ketogenic diet, with fewer than 5% of calories from carbs, it's important to know which veggies are the lowest in carbs, particularly if your goal is to consume fewer than 20 grams of carbs per day.
On a keto diet, vegetables with less than 5 net carbs may be eaten relatively freely — have them with butter and other sauces!
It is hard to over-eat spinach, zucchini, lettuce, asparagus and kale on a keto diet. These can be considered keto vegetables.
You will have to be a bit more careful with slightly higher carb vegetables like bell peppers (especially red and yellow ones), Brussels sprouts, and green beans to keep below 20 grams of carbs a day on a keto diet. Their carbs can add up. One medium sized pepper can have 4-7 grams of carbs.
While tomatoes are technically a fruit, you can have them on a keto diet, but again be careful as their carbs are a bit higher and, combined with other foods, may take you up over 20 grams net carbs a day if you consume too much.
If you are doing a more moderate or liberal low-carb diet, with more than 20 grams of carbs a day, you can eat as many above ground vegetables as you desire.