Low-Carb Recipe: Keto Chocolate Chip Cookies
Low-carb or gluten-free cookies that deliver the texture and comforting flavors of the original thing can be hard to find at your local grocery store.
Most options are filled with questionable ingredients, and if you opt for the organic kind, you'll have to spend more than you'd probably like. Thankfully, this recipe for keto chocolate chip cookies has come to the rescue.
This recipe is easy, so you can make keto cookies at home and indulge in these treats without worrying about any ingredients that might be bad for your health or kick you out of ketosis.
These keto chocolate chip cookies are easily one of the best recipes you'll ever find for soft, delectable, low-carb cookies. There are only 1.9 grams of net carbs per serving, so you can enjoy this chewy keto treat ithout the guilt.
If you're following a keto diet, you can still enjoy a few of these treats without kicking yourself out of ketosis. Here's what you'll need to prepare this delicious keto chocolate chip cookie recipe:
Coconut oil
Grass-fed butter or ghee
Eggs
Almond flour or coconut flour
100% cacao baking chocolate bar
Keto-friendly sweeteners of your choice: stevia or monk fruit
This recipe is:
Low-carb
Chewy
Keto-friendly
Easy
Cacao: A Nutritional Superfood
Cacao is one of nature's greatest low-carb, keto-friendly foods. It has a more bitter taste than regular chocolate, but it comes packed with an array of important vitamins, nutrients, and antioxidants to support your overall health.
Even though modern science is still uncovering the highly nutritional nature of these beans, hundreds of years ago cacao was already an integral part of Mayan culture. In fact, the Mayans used it as currency. It also played an important role in both their social gatherings and religious ceremonies, and it was considered a "food of the gods."
Cacao byproducts such as cacao butter, cacao nibs, and cocoa powder are becoming more widely available these days as research starts to uncover the full nutritional potential of this delicious food.
Here's a breakdown of three essential minerals in this powerful superfood, the crucial roles they play in the functions of your body, and how adding cacao to your diet can support your health goals[*].
Mighty Magnesium
Magnesium is a mineral found naturally in many foods such as green leafy vegetables, whole grains, and fiber-filled foods. Cacao is one of the top magnesium-rich sources available. This mineral plays a significant role in several essential tasks in your body, as over 300 biochemical reactions rely on it for proper function[*].
Magnesium also helps improve nerve function and regulate your blood glucose levels. It can aid in protein synthesis, bone and muscle development, and in maintaining healthy blood pressure levels[*].
Manganese Matters
Manganese is essential for building strong bones and is a part of many enzymes that help metabolize the food you eat on a daily basis. These enzymes help form healthy connective tissue[*].
Manganese plays a vital role in the health of your bones, liver, pancreas, and kidneys. This mineral helps keep your bones strong, can regulate blood-clotting factors, and may reduce the effects of premenstrual syndrome[*].
Crucial Copper
As a trace mineral, your body requires just a small amount of copper. However, a deficiency of this mineral can lead to health problems such as anemia, weakened immune function, and compromised bone formation[*][*].
Copper is vital in hemoglobin production, which helps your body generate more red blood cells in your bone marrow and spleen, transporting fresh oxygen throughout your systems[*].
This mineral also partners with vitamin C to produce elastin, helping build strong muscle fibers, and promoting healthy connective tissue[*].
Recipe Notes for Keto Chocolate Chip Cookies
Instead of using traditional chocolate chips, substitute them with a low-carb chocolate cacao baking bar. It's a great healthy alternative that touts more benefits than regular chocolate — and is even healthier than dark chocolate[*][*].
The higher the percentage of cacao, the better, so read the nutrition label. The taste may be a bit bitter on its own, but the combination with a natural sweetener will provide this keto cookie recipe with a tasty sweet kick.
If you don't have a cacao bar in your pantry, you can opt for natural, sugar-free chocolate chips (e.g., Lily's chocolate chips) or dark chocolate chips with a high content of cacao (higher than 75%).
You can also use other keto-friendly sweeteners like granulated erythritol. Even though this option might be the most similar to confectioners' sugar, keep in mind that erythritol is a sugar alcohol and may leave a "cooling" aftertaste.
All the core ingredients for these keto chocolate chip cookies can be found on Amazon.
More Keto-Friendly Dessert Ideas
If you're worried that following a ketogenic diet will leave you feeling deprived of your favorite desserts, think again. With these sweet and chewy chocolate chip cookies, you can satisfy your sweet tooth, keep your net carbs low, and stay in ketosis.
After reading about all the fantastic health benefits of this decadent keto dessert, you may feel inspired to try out other low-carb recipes that will keep your cravings at bay and won't get you kicked out of ketosis.
For some delicious and nutritious treats that are easy to make, consider checking out these options:
"Peanut Butter" Fat Bombs With Macadamia Butter
Salted Caramel Brownie Truffles
Sugar-Free Cinnamon Roll Cheesecake Bars
Print
Keto Chocolate Chip Cookies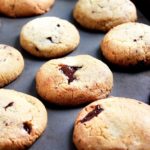 These low-carb chocolate chip cookies are soft, buttery, and one of the best ways to satisfy your sweet tooth.
Author:
Prep Time:

10 minutes

Cook Time:

20 minutes

Total Time:

25 minutes-30 minutes

Yield:

20

Category:

Dessert

Cuisine:

American
Ingredients
1/3 cup

coconut oil, room temperature

1/2 cup

grass-fed butter, room temperature

2

eggs

1 tsp

vanilla extract

3/4 cup

golden monk fruit sweetener

1/2 tsp

baking soda

1/4 tsp

cream of tartar

1/2 tsp

pink Himalayan salt

3 cup

s almond flour

3 oz

. 100% cacao baking chocolate bar
Instructions
Line two baking sheets with parchment paper and preheat oven to 350°F.
In a medium-sized bowl, use a hand mixer to combine coconut oil and butter. Once combined, add eggs and vanilla extract and continue to mix.
In the same bowl, add monk fruit sweetener, baking soda, cream of tartar, and salt. Mix until well-combined.
One cup at a time, add almond flour and mix together.
In a large bowl, microwave chocolate pieces in 15-second increments until just barely soft. Transfer chocolate to a plastic baggie and carefully break pieces apart using a rolling pin or the bottom of a hard object. Pour the chocolate chips into the bowl of cookie dough and fold in until combined.
Form the dough into balls (or use a small cookie scoop) and lightly press down and place on the prepared cookie sheets, allowing plenty of room in between cookies for the dough to grow and spread during the baking process.
Bake cookies for 18-20 minutes, until edges are golden brown and crispy.
Remove from oven and allow to cool completely before serving.
Enjoy and store remaining cookies in an airtight container.
Nutrition
Calories:

191

Fat:

18g

Carbohydrates:

11.5g (1.9g net)

Protein:

4.3g
Keywords: keto chocolate chip cookies
The post Low-Carb Recipe: Keto Chocolate Chip Cookies appeared first on Perfect Keto.