X Best Keto Coffee Recipes To Boost Energy and Banish Brain Fog
Coffee is one of the most widely consumed beverages in the world.
Some people drink it for the taste and aroma while others need it to get out of bed in the morning.
But have you ever considered using coffee to better your health?
Reviews on coffee consumption show participants scored the greatest health benefits from caffeine when they drank three to four cups per day[*][*].
Though this number may seem high, evidence suggests this amount is "more likely to benefit" health than harm it for most people[*].
So this recipe roundup will help you add more keto coffee ideas to your meal plans.
16 Keto Coffee Recipes
Caffeine may improve your physical performance and your ability to perform complex mental tasks[*].
But a standard black cup of coffee is just the start of what you could be giving your body to excel.
Adding just a few low-carb, health-boosting ingredients like these will take your black coffee and tea above and beyond:
Grass-fed butter

. It's full of healthy saturated fats and specific omega-6 fatty acids called CLA, which may help regulate blood sugar levels[

*

][

*

].

Coconut oil. This dairy-free alternative to unsalted butter or ghee is loaded with medium-chain triglycerides (MCTs) to keep you full and potentially spur weight loss[

*

][

*

].

Coconut cream. Over 90% of calories in coconut cream come from MCTs. These are used as fuel instead of stored as fat[

*

].

MCT oil powder

, which may increase your ketone levels to push you closer to ketosis and

lessen keto flu

symptoms[

*

].

Exogenous ketones

to help curb cravings and hunger, support your workouts, and boost energy.
So how do you put all those ingredients together to craft a drink you'll love?
Follow these easy keto recipes to become an at-home, keto barista:
#1. Classic Keto Coffee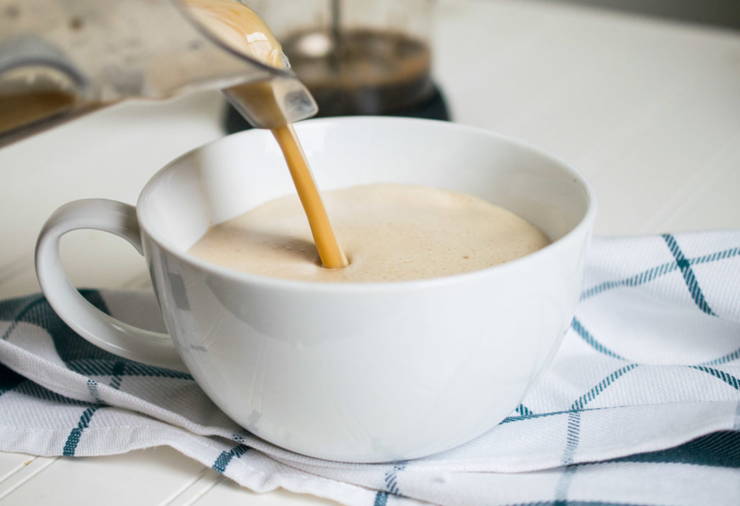 The classic keto coffee or bulletproof coffee recipe from Dave Asprey is a staple in ketogenic diets.
Inspired by guides in Tibet drinking yak butter tea, this satiating drink combines caffeine with energizing fats to help you climb mountains.
To make butter coffee or boosted keto coffee, swap out the traditional tea for black hot coffee. Then replace the yak butter with healthy fats like grass-fed butter, coconut oil, or MCT oil.
This magic drink is also delightful as a cold smoothie.
#2. Keto Iced Coffee Smoothie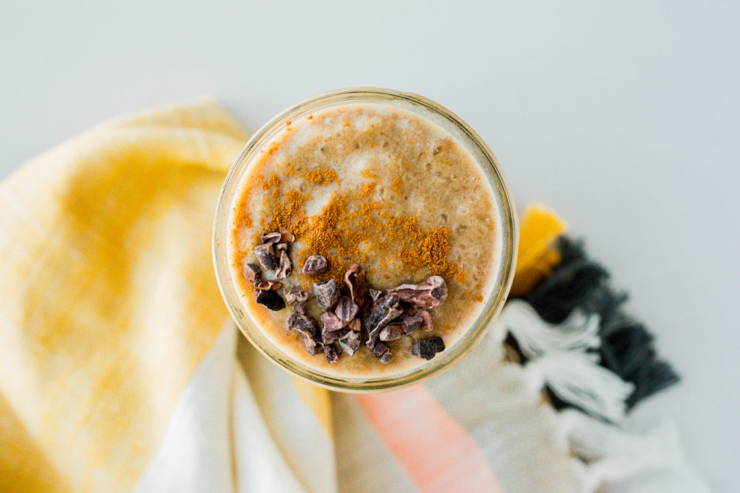 You only need a few ingredients to make this keto iced coffee smoothie and have the best of both worlds in the morning.
If sweet coffee drinks are your siren song, this next recipe will deliver without blowing your carb intake limit.
#3. Cinnamon Dolce Latte Breakfast Smoothie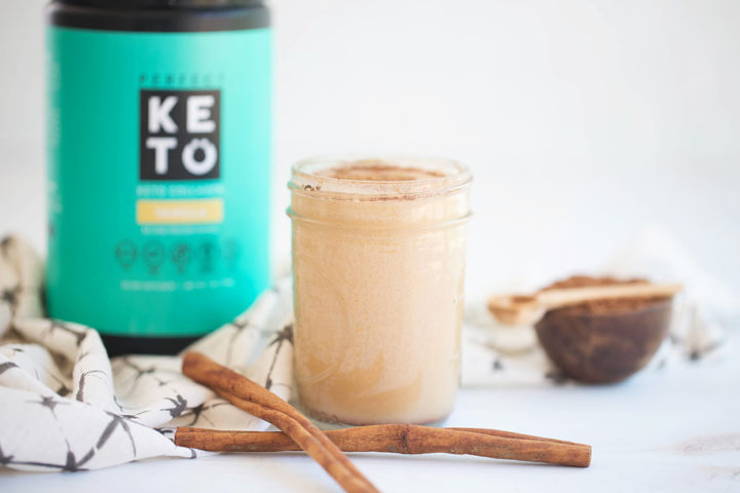 Skip the Starbucks Cinnamon Dolce Latte in favor of this filling cinnamon dolce latte breakfast smoothie.
It has the perfect ratio of protein from collagen peptides, healthy fats courtesy of MCT oil powder, and fiber from chia seeds. When combined with cold brewed coffee, you'll be fueled up for hours.
This high-fat smoothie serves up 22g of fat and 13g of protein for just one net carb.
And the next recipe is a game changer if cafe mochas or pumpkin spice lattes are your weakness.
#4. Pumpkin Spice Mocha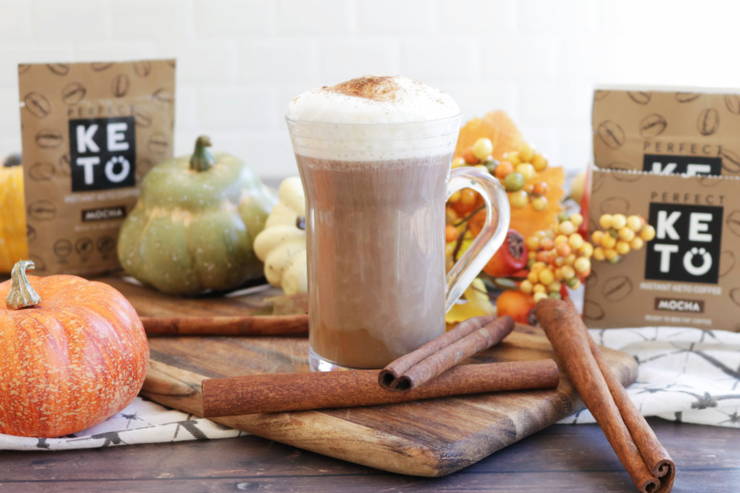 More often than not, a pumpkin spice latte at the coffeehouse will be loaded with artificial ingredients from the pumpkin flavored syrup.
But this pumpkin spice mocha will put you in the warm fall spirit without cheating your ketosis goals.
Just grab a packet of Perfect Keto Instant Coffee and combine it with hot water, pumpkin spice, cacao powder, and heavy cream. Or sub coconut cream to keep it dairy-free.
If you have guests over for brunch, use a frother or immersion blender to create a foamy, picture-perfect topping.
One cup of this provides 20g of fat for a single net carb.
The next flavorful recipe is even easier.
#5. Iced French Vanilla Latte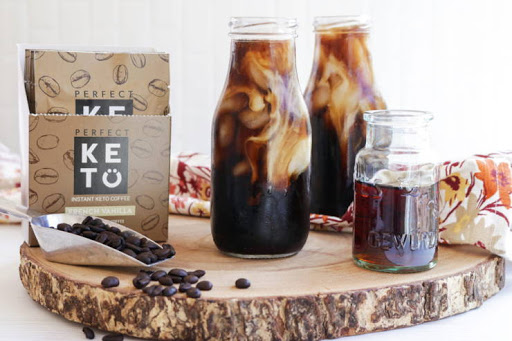 You only need two ingredients to whip up this keto iced French vanilla latte. And it will take a lot less time to make than standing in line to order one.
Just open a packet of vanilla flavored Perfect Keto Instant coffee and mix with cold water. 
Add a keto-approved sweetener like stevia or monk fruit, or a splash of coconut milk or almond milk, and you're done.
One serving offers up 20g of fat.
The next drink is an even better coffee shop copycat.
#6. Salted Caramel Latte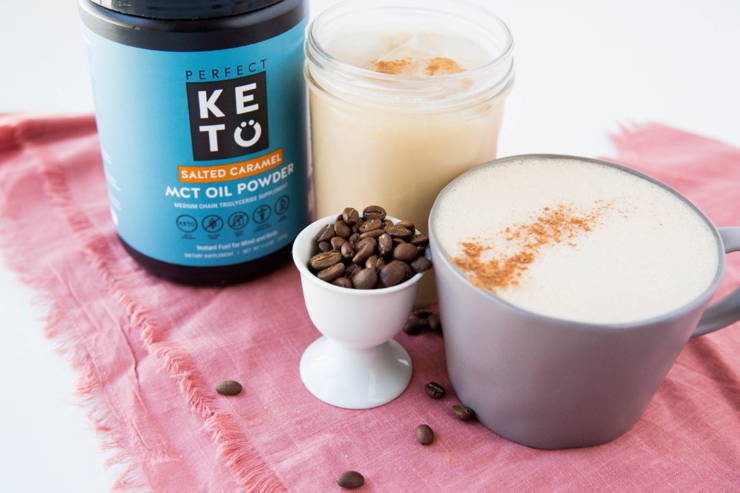 Fighting caramel macchiato cravings on your low-carb diet?
Stop and trade in all those carbs for this no-sugar salted caramel latte.
Salted caramel flavored MCT oil powder is the secret to recreating the drink you love on a ketogenic diet. It's responsible for the killer flavor and for chasing away AM brain fog too. 
You'll even find a recipe tweak to make this a keto frappuccino.
And if you like this coffee drink, you'll definitely want to try the next.
#7. Snickerdoodle Coconut Coffee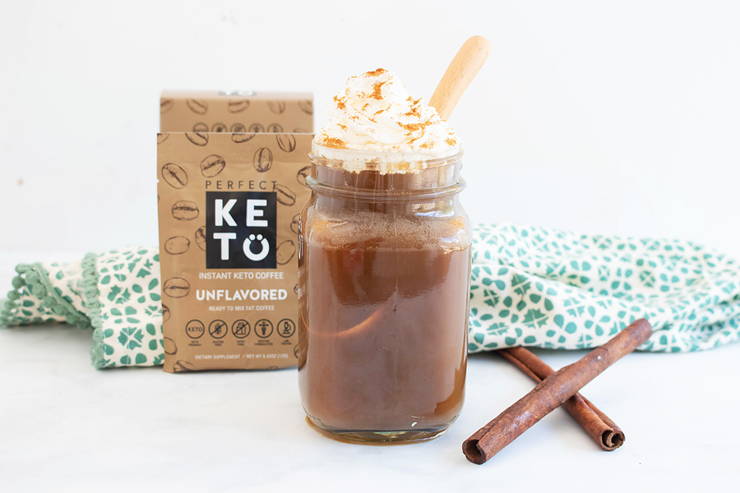 Sugary coffee drinks feel like they give you a buzz of energy. But it only lasts until the eventual crash.
This dairy-free snickerdoodle coffee tastes like a cinnamon sugar cookie dunked in fresh java and will give you steady, long-lasting energy you can count on.
Treat yourself to a hot version in the morning and have it iced or blended for a snickerdoodle coffee frappuccino in the afternoon.
The next recipe will get you out of bed and to your workouts with less complaining.
#8. Pre-Workout Pump Mocha
Coffee before exercise may give you the energy and motivation to complete (or show up) for your sweat sesh. 
And one study showed consuming coffee beforehand helped participants continue their calorie-burning for up to three hours after their workouts[*].
So put this pre-workout mocha recipe to the test. You'll reap the rewards during and long after class gets out.
Use the next recipe to rebuild your muscles and energy levels post-workout.
#9. Post-Workout Muscle Repair Mocha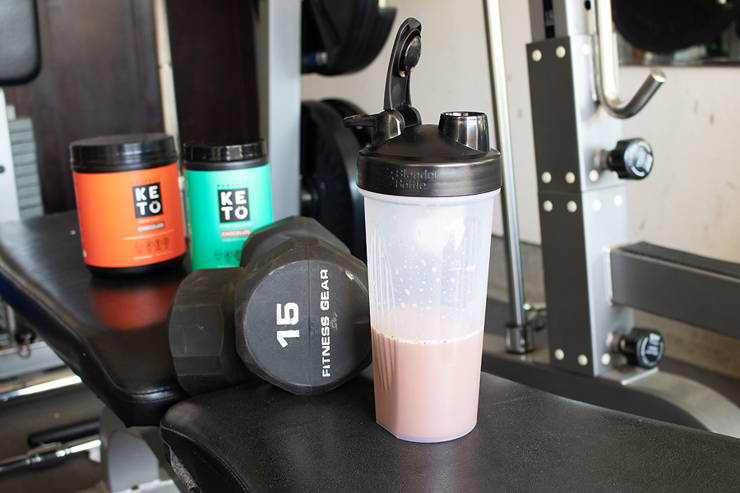 You're probably drinking high-protein shakes to build and repair your muscles post-workout. But what about adding caffeine to that process?
This post-workout mocha coffee combines collagen and whey to give your body 25g of protein for recovery. And the extra boost in energy from the coffee will help you tackle the rest of your day like a superhero.
The next drink shines during the darkest part of your afternoon slump.
#10. Midday Boost Latte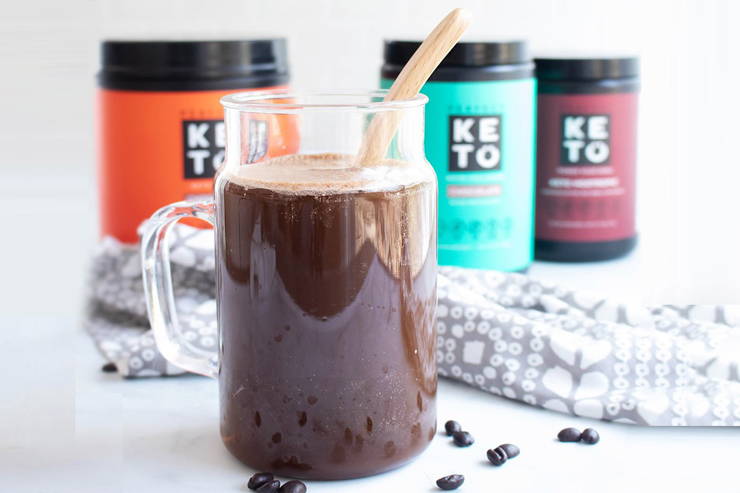 There's a special ingredient in this midday boost protein latte you won't find in your standard Americano: nootropics.
Also known as "brain boosters" or "smart drugs," nootropics are compounds that enhance certain mental functions like your focus, memory, creativity, and attention span[*].
Paired with a scoop of MCT oil powder and whey protein, this latte serves up extra energy, concentration, and satiety when you need it most.
The next recipe is less workhorse and more keto-approved indulgence. 
#11. Vietnamese Iced Coffee
Traditional Vietnamese iced coffee recipes call for sweetened condensed milk. That's not keto-friendly at 21g of sugar per oz.
So use this recipe for keto Vietnamese iced coffee when you're in the mood for a dark roast lightly sweetened with low-carb cream.
You'll swear the next knockoff recipe is even better than the high-carb original too. 
#12. Keto Frappuccino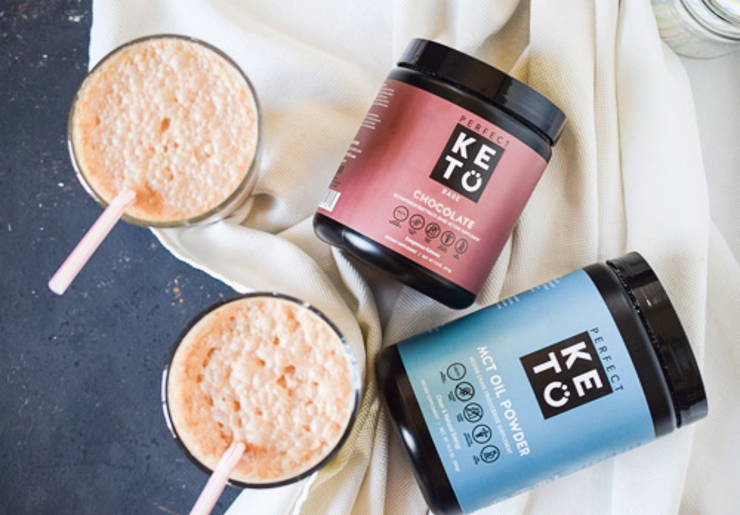 Making your own keto frappuccino at home is healthier, quicker, and cheaper than menu hacking one at Starbucks. 
The next recipe also expertly transforms a Starbucks classic for low-carb lifestyles. 
#13. Peppermint Mocha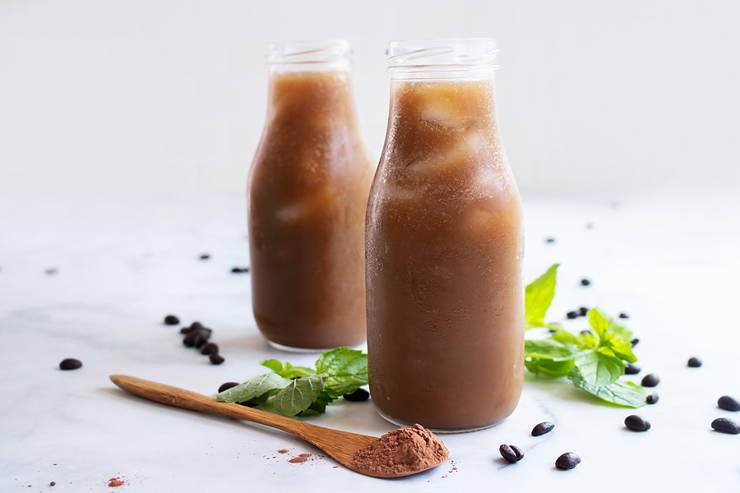 Avoid the popular Peppermint Mocha at Starbucks; a grande with 2% milk clocks in at a staggering 63g of carbs and 54g of sugar[*].
This low-carb keto peppermint mocha recipe satisfies the craving, takes care of your body, and only has one net carb.
Plus, researchers from one study noticed consuming peppermint extract helped people crush difficult mental tasks. Participants also showed fewer signs of mental fatigue after completing those tasks[*].
The next recipe removes the cocoa powder but not the mint and coffee combo.
#14. Mint Iced Coffee
Fans craving the Mint Mojito Iced Coffee from Philz Coffee no longer have to cheat to scratch that itch.
This recipe recreates the famous and refreshing mint-coffee flavor profile without insanely spiking your blood sugar levels.
Swing in the opposite direction with the warm and spicy flavors found in the next recipe.
#15. Mexican Mocha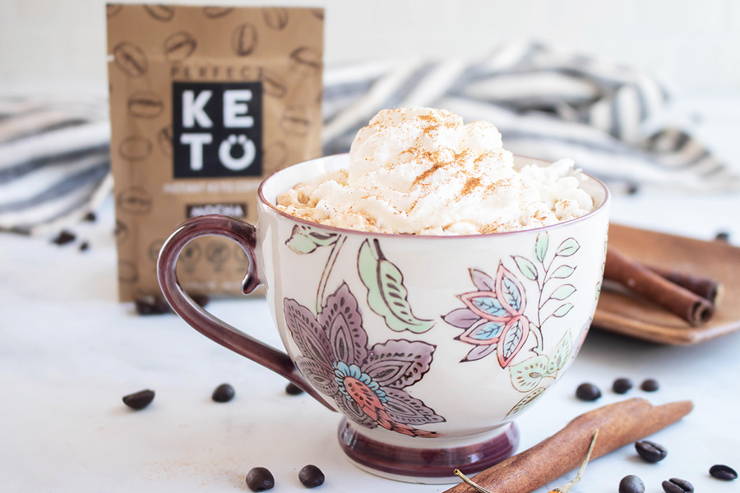 The flavors of Mexican hot chocolate are strong in this keto Mexican mocha recipe.
With a mix of Perfect Keto Instant Coffee in Mocha, cinnamon, spicy cayenne pepper, and creamy milk, you'll have a sweet pick-me-up that pulls double-duty.
See, cayenne contains capsaicin. This compound is responsible for the heat in peppers but may also promote fat burning for weight loss[*].
The next recipe capitalizes on spice but in a different way.
#16. Dirty Vanilla Chai Latte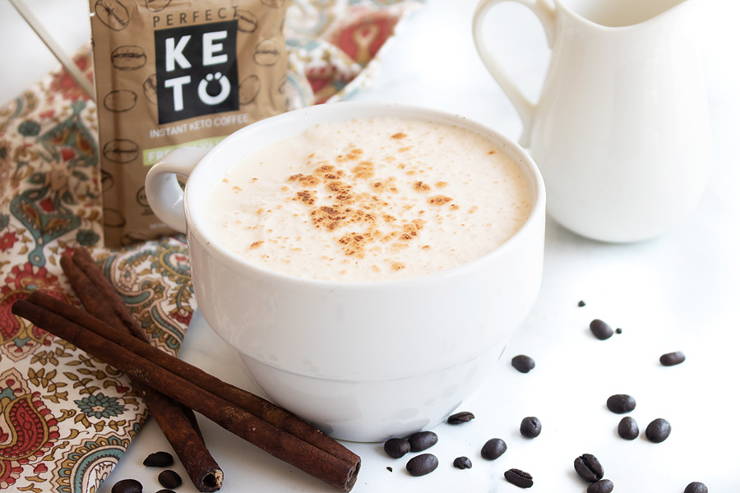 A classic chai latte couples black tea and cream with spices including ginger, cinnamon, and cardamom. 
A dirty vanilla chai latte adds coffee or espresso to the mix for a boost of caffeine to help kickstart your metabolism and energy levels[*].
The next group of recipes will elevate all your keto coffee drinks.
Keto Non-dairy Creamer and Coffee Toppings
Walk by the sugar-free creamers and whipped toppings at the grocery store. Check the nutrition facts and you'll find preservatives, chemicals, additives, carbs, sugar, or all of the above.
Stick to these easy keto creamer and topping recipes to stay on track:
#1. Keto Whipped Cream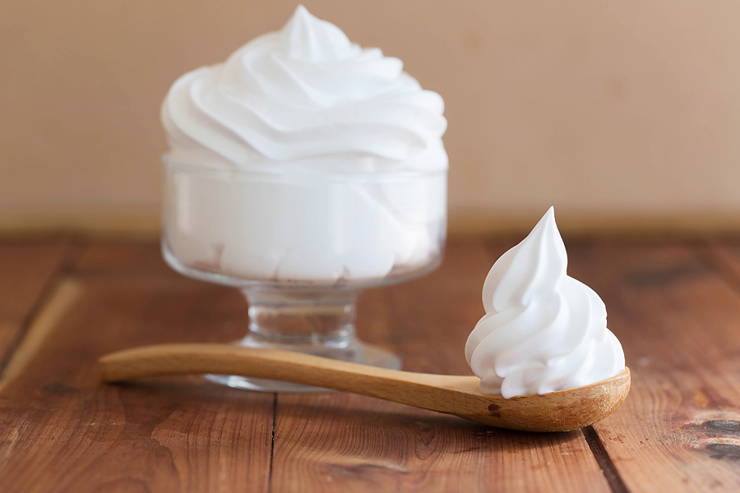 It only takes two ingredients — heavy whipping cream and low-carb sweetener — to make this thick and fluffy keto whipped cream.
Full of dietary fats to keep you in ketosis and made in less than five minutes total time, you'll want to put this on everything. 
Try this recipe with different flavors, such as adding:
Pure extracts like vanilla, almond, or peppermint

Cacao powder to create chocolate whipped cream

Ground spices like cinnamon, nutmeg, or pumpkin pie
This next whipped cream flavor may top them all.
#2. Keto Salted Caramel Whipped Cream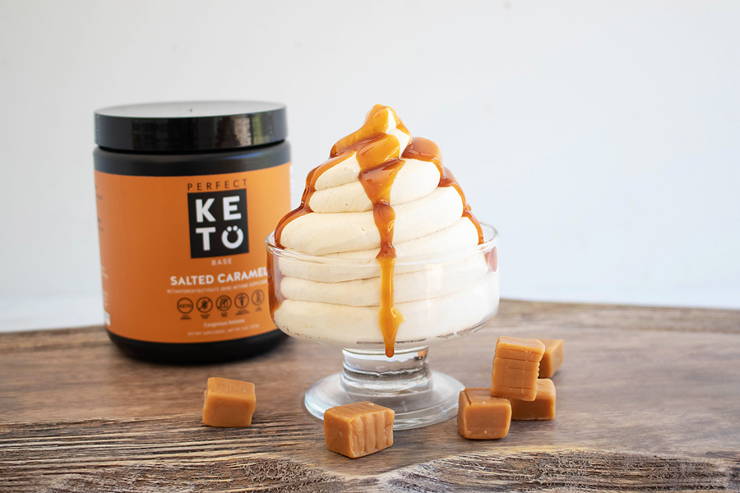 Feast your eyes on this salted caramel whipped cream recipe and you'll have a hard time believing it's low-carb, keto, and gluten-free.
Salted caramel exogenous ketone powder and sugar-free caramel syrup transform ho-hum whipped cream into the tastiest way to support ketosis.
If you prefer adding creamer over whipped toppings, you're in for a treat up next.
#3. Salted Caramel Coffee Creamer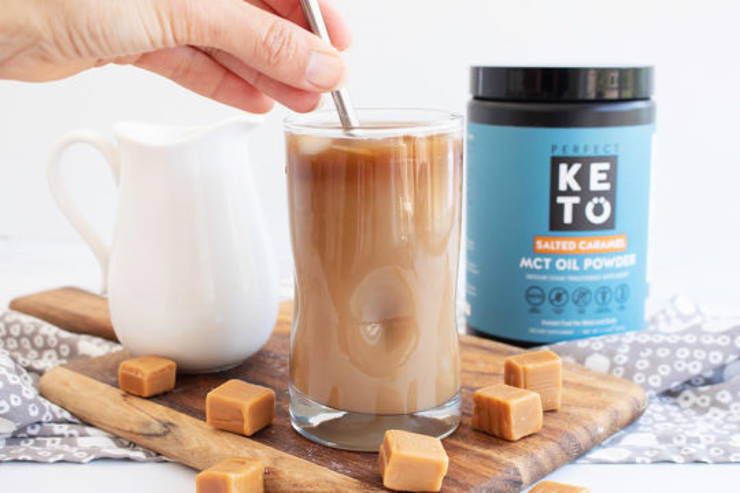 This homemade keto salted caramel coffee creamer is lightyears ahead of anything you'll find on grocery store shelves.
It's made with salted caramel MCT oil powder, monk fruit, caramel extract, and heavy cream (or coconut cream) so you can ditch the fake stuff. 
And if you need a break from coffee, you'll snag similar health benefits minus the java using these next recipes.
Energizing Non-Coffee Beverages
Give these non-coffee beverages a go when you don't want decaf coffee but need a boost of energy:
#1. Keto Tea: A Coffee Alternative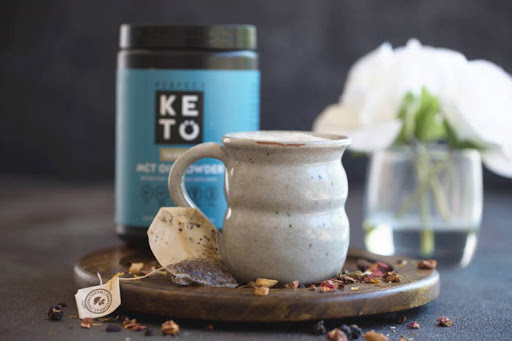 If you can't have caffeine but still want the energizing and satiating effects of keto coffee, keto tea is the best alternative.
Start out by brewing your favorite herbal tea of choice. Then add your tea to a blender along with grass-fed butter or coconut oil and MCT oil powder.
When this whizzes up, you'll have a frothy keto tea latte with 31g of healthy fats for a single net carb.
It's hard to beat that macro ratio, but a warm, low-carb hot cocoa can certainly try.
#2. Creamy Keto Hot Cocoa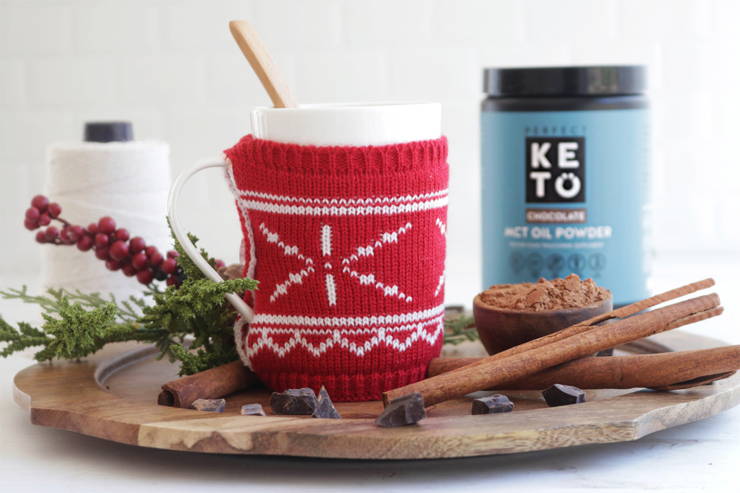 Most hot cocoa mixes contain way too many carbs and harmful food additives to be keto-friendly or healthy.
This creamy keto hot cocoa recipe stacks the deck in your favor.
It's dairy-free, gluten-free, and low-carb so anyone following a keto diet can indulge guilt-free.
Top the healthiest hot cocoa you've ever made with keto whipped cream or whipped coconut cream for pure bliss.
This non-coffee beverage also works well cold over ice, just like the next recipe.
#3. Simple, Creamy Keto Chai Latte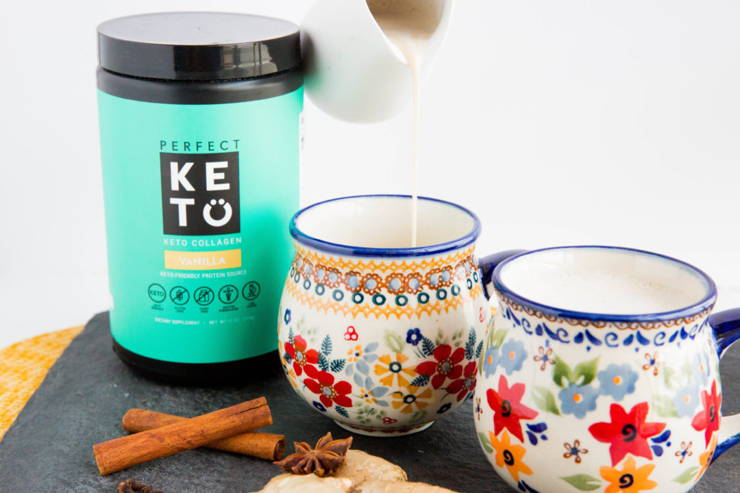 Chai lattes are an example of a healthy drink ruined by sugar.
Made with a sugary concentrated syrup, a grande Chai Latte at Starbucks packs 42g of sugar when it's made with 2% milk (the standard)[*]. 
Traditional chai tea recipes from India celebrate the health benefits of a unique blend of herbs and spices including ginger, cinnamon, and nutmeg.
Which is exactly where this simple, creamy keto chai latte takes inspiration.
It provides 10g of protein and almost 6g of healthy fiber for a little over one net carb.
Matcha tea lattes are another drink you can't trust at your local coffee shop despite the health benefits.
#4. Keto Matcha Latte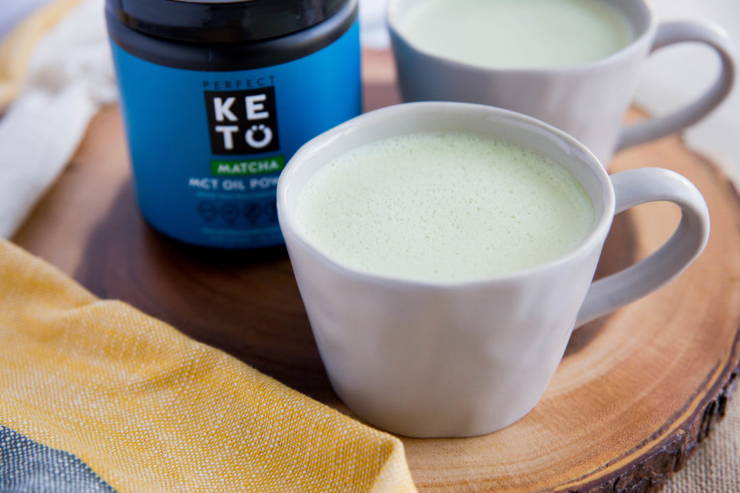 Reach for this comforting matcha latte when you'd rather not have coffee but still need a calm pep in your step.
Matcha is made by grinding special green tea leaves into a fine powder. Unlike straining out the leaves in a tea bag, you whisk the powder with water or milk until it froths into a bright green latte.
Matcha may take your palate a bit of getting used to, but the science-driven health benefits are so worth it.
The next set of recipes will be love at first bite.
Keto Coffee-Flavored Desserts
Still can't get enough of that coffee flavor? 
Here are some of our favorite coffee-flavored desserts:
#1. Mocha Chia Pudding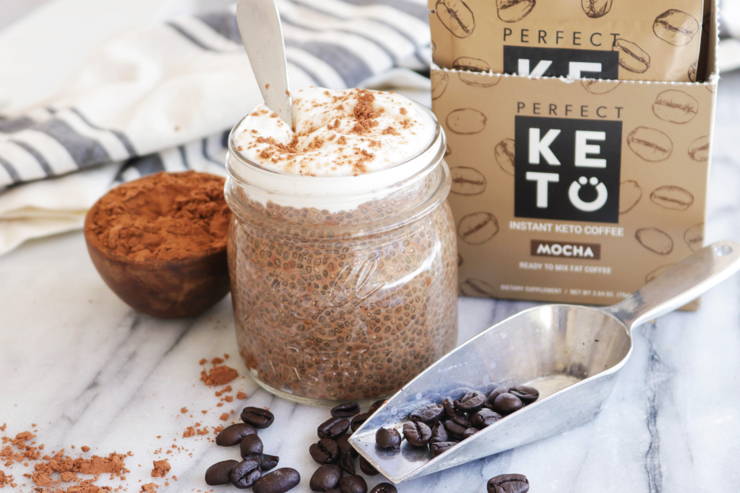 To make this keto mocha chia pudding, simply add chia seeds, unsweetened milk, keto-friendly sweetener, and instant coffee to a mug or mason jar.
Place it in the fridge to thicken up for a few hours (ideally, overnight). Then top it with stevia-sweetened chocolate chips or coconut shreds when you're ready to eat.
A half-cup serving rings in at 7g of protein, 15g of fat, 10g of fiber, and one net carb. All those healthy fats and fiber will keep you fuller longer and your digestion regular.
No one will ever guess this or the next dessert is sugar-free.
#2. Silky Mocha Truffles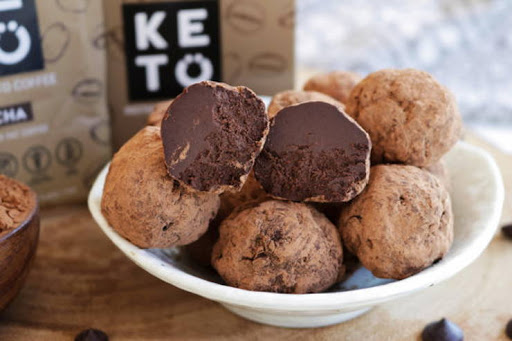 You're not going to find low-carb, gluten-free silky mocha truffles this fantastic at the candy store. And once you try them, you'll never want to live without them.
These truffles satisfy sugar cravings, raise energy levels, and show being on a low-carb diet isn't so restrictive.
Same goes for the next recipe.
#3. Mocha Brownie Cheesecake Bites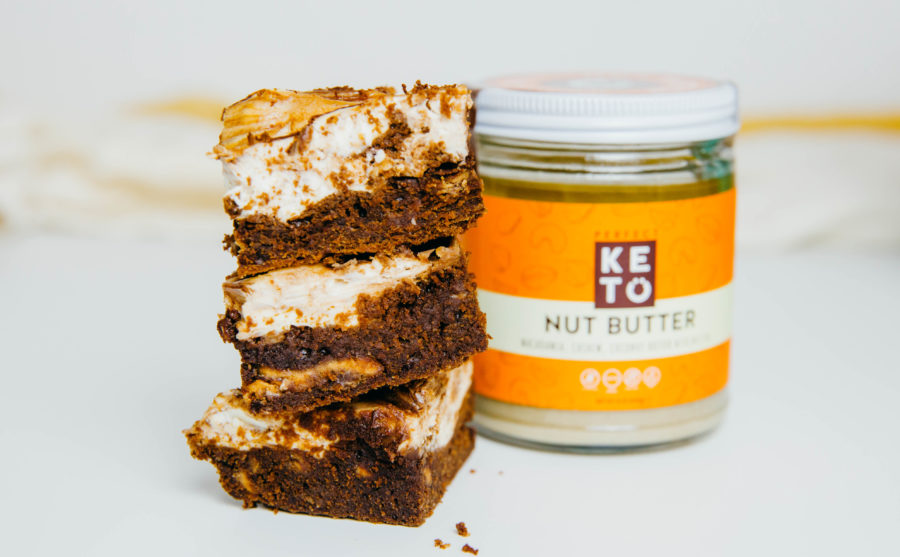 These keto mocha cheesecake brownies are gluten-free and sugar-free and have a net carb count of only 1.6g. Meet your new favorite keto dessert.
The coffee is what brings out the rich, chocolatey flavor of these brownies, so don't skip it! Enjoy the creamy flavor of the cheesecake, along with the deep flavor of the chocolate and coffee. And because these are sugar-free, you can even enjoy a small piece with your coffee in the morning. 
The final recipe in this roundup takes on the mother of all coffee desserts.
#4. Keto Tiramisu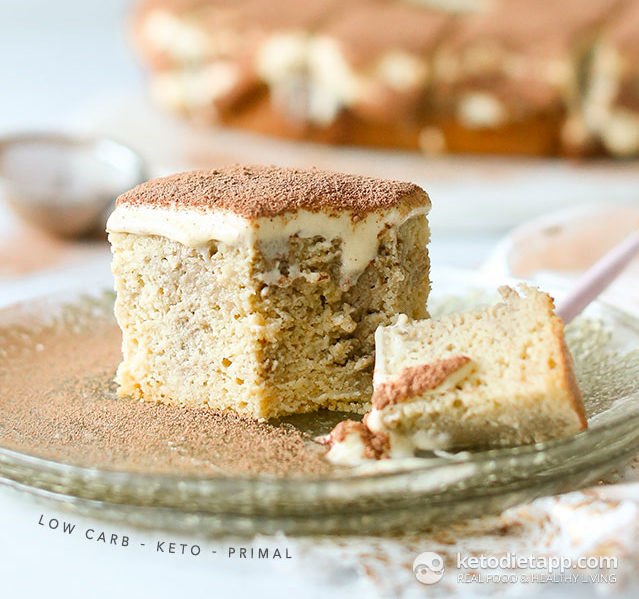 "Tiramisu" means "pick-me-up" in Italian.
The classic recipe calls for ladyfingers soaked in strong espresso and then layered with sweet mascarpone cheese and whipped cream. 
Keep the tradition alive with this keto tiramisu and please everyone who needs a pick-me-up without the sugar crash.
#5. Peppermint Mocha Keto Cake Pops
Cake pops — mini cake bites disguised as lollipops — have been making the rounds of birthday parties and baby showers for years now. They make the perfect party favor or dessert, complete with built-in portion control.
But the chocolate cake pops or cake balls you find at most bakeries and grocery stores contain harmful ingredients like sugar, white flour, food coloring, and other unnecessary additives.
That's where this keto cake pops recipe comes in. With a creamy chocolate coating, a hint of candy cane flavoring, and a deliciously moist chocolate cake center, these gluten-free keto cake pops are sure to satisfy your sweet tooth.
Make These Keto Coffee Recipes the Best Part of Your Day
These keto coffee recipes may not make you a morning person but they're full of energizing essentials to start your day off right.
Make these coffee recipes staples in your keto meal plans and you'll value them as much as avocados and macadamia nuts.
You may also find keto coffee makes intermittent fasting less challenging and hard workouts more fun.
So start drinking to your health, you new keto barista!
The post X Best Keto Coffee Recipes To Boost Energy and Banish Brain Fog appeared first on Perfect Keto.